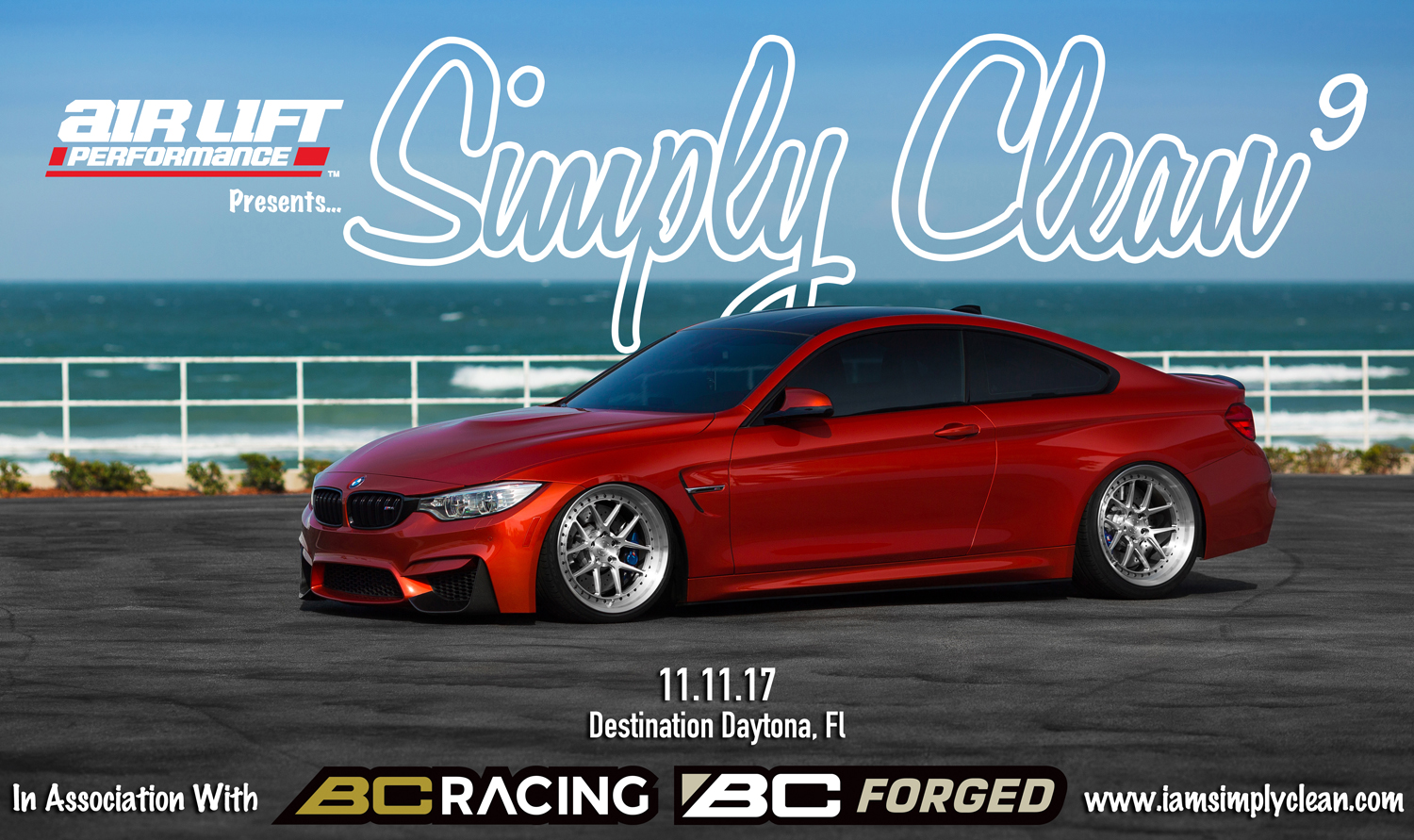 It's that time of year again to gather all car enthusiats to one location for a special day of meeting new people, showing off your ride and helping out those in need. Air Lift Performance Proudly Presents Simply Clean 9 in association with BC Racing NA and BC Forged NA at Destination Daytona, an amazing venue that houses restaurants, bars, a hotel and much more! Because of the generous amount of donations from show participants the last 5 years, over 3,000+ lbs of hygiene/non perishable food items were collected to help the homeless. We are absolutely grateful to work with Pathways To Care again, "a not-for-profit assisted living facility which provides recuperative care to homeless men & women recovering from an acute illness of injury".
Due to the massive amount of cars in attendance, we will be doing Pre Registration/Pre Approved show parking. We believe utilizing the limited amount of show spaces with clean quality cars will make for a great display.
Come out and experience what we believe in, having a great time with friends and meeting new ones. We can guarantee that it will be more than worth the drive if you love what we do. No trophies, no competing for 1st Place or Best Of Show! Just taking it back to the basics of meeting new people, drinking responsibly and talking about cars.
WHEN
Main Event
Saturday, November 11th 2017
11am to 4pm
WHERE
Destination Daytona
1637 N US Hwy 1,
Ormond Beach, FL 32174
Phone: 866-642-3464

© 2012 Scott Keating
HOW MUCH
APPROVED Show Car Parking $53
$30 CASH Per Spectator Car (Space Is Limited, We Suggest Carpooling)
Motorcycle/Scooters FREE
CAR REGISTRATION
Car Registration Open HERE
VENDORS
Vendor Registration Open HERE
Air Lift Performance / BC Racing NA / BC Forged NA / I Love Driving Slow / HighwayStar Garage / RuckHouse / Cloud9 Automotive Brand / SSP Vinyl / Bag Riders / Precision Sport Industries / VIA / Riverside / Racekor Stuff / Monster Energy / Darker Days / Vinyl Sickness
FOOD VENDORS
Daytona Pig Stand / Philly's Best Cheesesteaks / Bobbies Roti Hut / Ramon's Hot Dog Cart / Big Jon's Munchii Kart
DONATIONS
-Bottled Water
-Flip Flops
Men/Women All Sizes
–Personal Hygiene Items–
-Deodorant
Men/Women
-Shaving Cream
-Disposable Razors
-Toothbrush
-Toothpaste
-Mouth Wash
-Hand Soap
-Body Wash
Men/Women
-Shampoo
-Conditioner
-Lotion
-Feminine Hygiene Products
-Combs/Brushes
-Nail Clippers
-Ear Plugs
Every donation will receive 1 raffle ticket PER FULL SIZE ITEM to win products from our vendors.
RULES
Due to the venue having an on location restaurant, ABSOLUTELY NO OUTSIDE FOOD OR DRINKS ALLOWED ON PROPERTY
HOTEL STAY
We are happy to announce that Howard Johnson Destination Daytona located on property, provides a great hotel experience for travelers. The whole Simply Clean crew will be lodging here from Friday-Sunday.
Howard Johnson Destination Daytona
1635 North US Highway 1
Ormond Beach, Florida 32174
Phone (Local): (386) 944-1500
Phone (Toll Free): (877) 498-1500